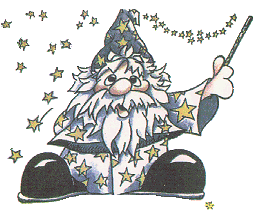 Current reading:
"Artemis Fowl" by Eoin Colfer
"Secret Texts 2: Vengence of Dragons", by Holly Lisle
Current work:


Misfit Magic (F short): plotting


Danielle's Rescue (H short): On it's way to WotF! 1500 words


The Wishers: (F short) Finished, getting crits.
July 24, 2001:
Hurrah! DR is now ready to be mailed to Writers of the Future! Yippee! It's not great and I know it won't do well, but it feels good to have my first contest submission off. I don't know what kind of feedback I'll get, but maybe it will be helpful.
My next order of writerly business is writing "Misfit Magic". The things been floating around in my head for about 3 months now. Some nice developments occured while I had plenty of time to think during traveling recently. I still don't know how it all will come together, but I think it will be a good story.
But it won't happen until next week. I'm up to my ears in work this week to finish the Summer Reading Program. Trophies are ordered, prizes are gathered, now all that is left is signing the certificates, gathering food for the party and putting together the little goodie bags for them. It's gonna be a long week!
My eighth newspaper article is going into the paper this week. It's really neat to see my name in print. The articles have become tedious to write each week. All I do is report on how many children attend, what they do, and report any upcoming events. It's been a challenge to come up with different ways to tell basically the same info. I'm glad the article for next weeks paper will be the last one I have to write for a while.
I've been neglecting to mention here the other thing that's been occupying my time. We bought a satelite reciever about 2 1/2 months ago. It's really nice because we're getting stuff we're not supposed to. I told them about it during the first week or two and they said, "No, we're showing you to have..." which is what we are supposed to have. They're not billing us for the added stuff either. I'm not complaining. We've enjoyed having the Showtime package and getting to watch the few good movies we've managed to find. I feel a bit guilty about it, but, hey, I told them and they didn't seem to care. I did my job in telling them. It was their decision to ignore it.
I've really enjoyed the History channel, Discovery channel and The Learning channel. I watch A Baby Story, Birth Day and I've been really interested in the shows about Egypt. I watched one where they opened the tomb of K5 and discovered bodies of the great King Ramesses children. It's amazing what they can do now with DNA testing!
Another thing I've been spending a bit of time on is some webpage design. My hubby and I decided to get our own family site so that we can post baby pictures on later. I've been searching the web for that as well as the idea I have in mind for the new journal look. Haven't found much for the latter, but hoping that a friend can make it for me. Again, most of this webwork will have to be done next week or later, but I'm thinking about it often right now. I'll put up a link to our new site when I get it finished. Right now there is a very temporary page up with so many errors it's pitiful. The freeservers quick page maker needs some work! But, it's only temporary, so I guess it's not that bad.
Time for lunch, TTFN!